The New Large Account Management Process
SM

(LAMP

SM

)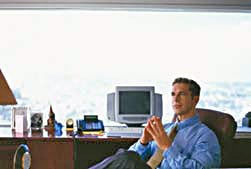 Large Account Management ProcessSM. In most of businesses, five percent of the accounts bring in over fifty percent of the revenue. Our Large Account Management ProcessSM (LAMPSM) shows you how to manage and grow these critical accounts.
Uniquely customer-oriented, LAMPSM demonstrates how to move a "buy sell hierarchy" by positioning yourself with senior people in the buying organization and delivering the corporate results that matter most to them.
Working in teams composed of account representatives and their managers, LAMPSM participants develop strategic account analyses for key accounts, establish hard-number, realistic revenue targets, and devise detailed action plans for reaching their goals.
WHAT YOU LEARN
How to build lasting, strategic relationships with your best customers.
How to move from "commodity vendor" to "joint venture business partner."
How to manage the large account as a whole, not as a grab of disconnected sales.
How to focus your energy on work that will pay off---and stop investing in projects that are wasting your time.
How to decrease the importance of price sensitivity.
How to turn teamwork from a pipe dream into a reality.
How to identify and implement essential support programs.
How to bring reality into your quarterly revenue forecasting.
How to establish hard-number revenue targets.
How to write account action plans that bring measurable results.
How to make your clients see your company as indispensable to their business success.