The New Conceptual Selling
®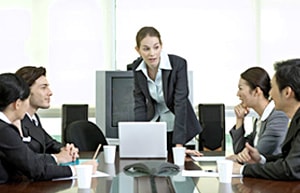 As the "tactical" component of the sales Operating System, Conceptual Selling® focuses on the effective management of the individual sales call. Unlike "face time" systems that stress trial closes and other manipulative techniques, it concentrates on understanding the Customer's Concept---the "solution image" that explains why Customers really buy.
Light years ahead of the "product pitch", Conceptual Selling® outlines a unique, four-part of questioning process that creates positive information flow, differentiation from your competition, and solid, mutual commitment to Win-Win relationships. By learning how to understand Concept, our clients dramatically improve both their confidence and their credibility with their most valuable Customers.
WHAT YOU LEARN
How to move beyond the "product pitch" to the reason that people really buy.
How to turn the customer's need to practical use as your strength.
How to utilize a unique, proactive questioning process to secure missing information.
How to get inside the Customer's head by understanding the decision making process.
How to use the decision-making process.
How to use the Golden Silence technique to create positive information flow.
How to position your company more effectively by leveraging from your Unique Strengths.
How to identify why a Customer "won't commit"-and what to do about it.
How to increase close ratios by building win-win relationships with prospects
How to avoid an unsatisfactory business results.
How to set a valid business reason for every customer interaction.
How to establish credibility with every buyer, every time.
How to use a Joint Venture Approach for building long-term relationships with clients.
How to overcome basic Issues and identify Commitment Signals.